The World Famous "HANG FLAT"

Balances your transmitter hanging on its neck strap.
Automatically levels your transmitter, helping to keep controls clear of your body.
Weighing just a fraction of an ounce, it works with most Spektrum, JR, Hitec, Futaba and other transmitters.

Does not change how you use your transmitter in flight.
MORGAN RC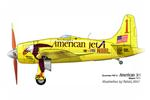 A division of www.morganmill.com
$6.95 + S&H
Made in the USA